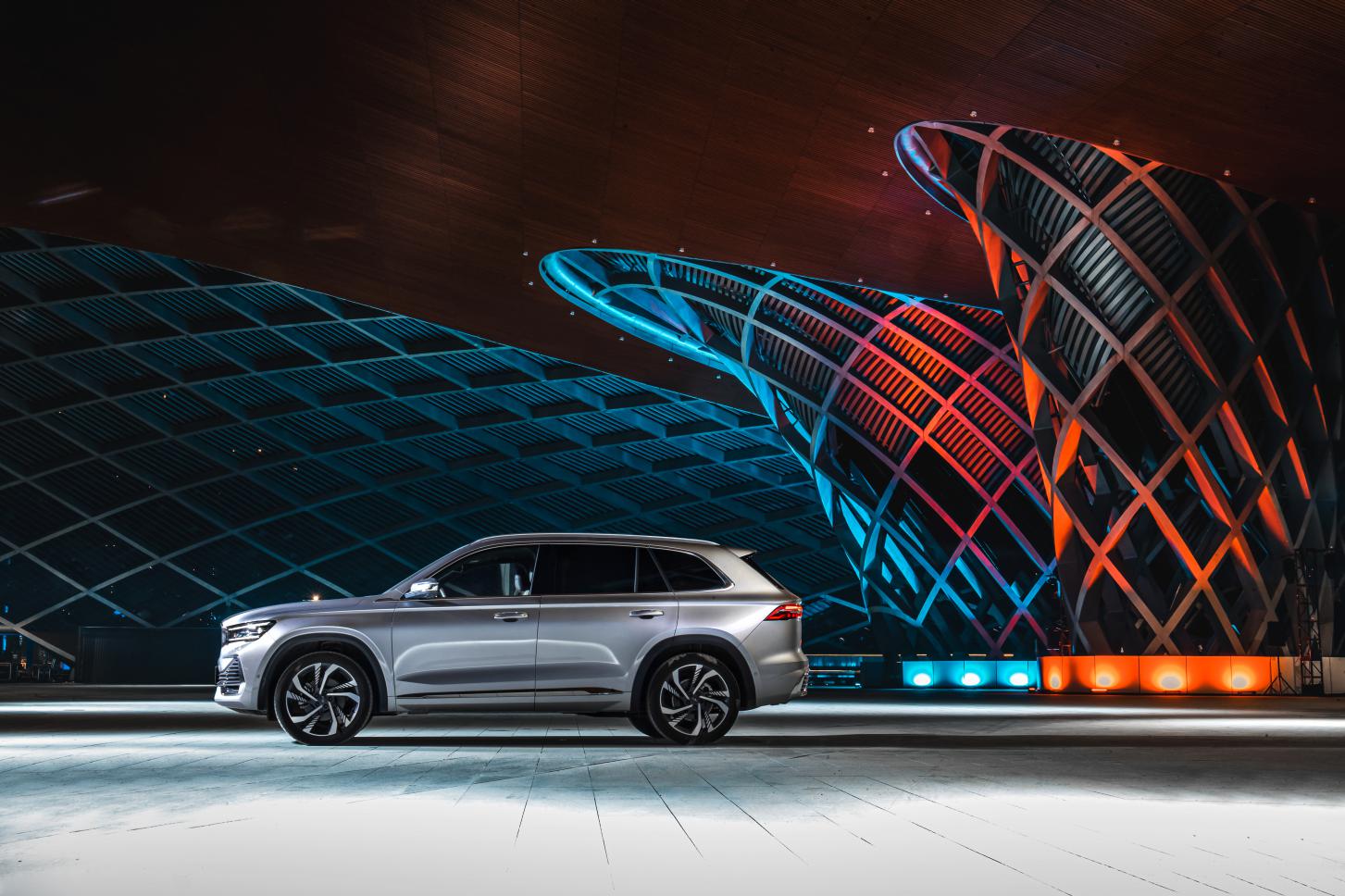 • Geely Auto launched its newest high-end flagship SUV – Xingyue L
• Empowered by advanced technologies to offer unparalleled luxury and user experience
• First Geely model capable of going beyond L2 autonomy with 100% automated valet system and HWA Highway Assist
• Geely Xingyue L to be one of the first to offer Geely GHS2.0 hybrid powertrain system in the future
2021 July 20th, Hangzhou. Geely Auto (Geely), the largest privately-owned Chinese brand, launched its newest CMA-based SUV on the Chinese market at an event in Hangzhou City. Named the Xingyue L in China, the high-end SUV is the most advanced SUV ever to be launched by Geely Auto. Pre-orders for the Xingyue L has already reached nearly 30,000 since being unveiled to the public earlier in the year. The launch of Xingyue L adds a third model to Geely's flagship 'Star' series which also includes the Coupe SUV Xingyue S and class-leading sedan Preface.
Sitting on the Compact Modular Architecture, the Xingyue L is designed with strong proportions; a wide 1610mm wheel track and long 2845mm wheelbase, resulting in both strong presence and expansive interior. Viewing the Xingyue L from different angles present a bold yet serene, tough yet refined, classic yet trendy image.
The interior of the Xingyue is where a true symphony between Eastern and Western styling can be seen. Creating an interior that's modernistic yet classically refined comes down to the details, including selective material choices and colours. Custom suede is present throughout the interior giving occupants a low-key hint of luxury. Weaving in the seats incorporate Chinese elements like classical knots, adding an element of refinement in the details.
Technology has become the core base in creating a luxurious interior environment. Inside, a panoramic integrated cockpit space has been created. Designers aimed to create a visually immersive luxurious environment integrating intelligent human-machine interaction to offer the best experience for drivers and passengers. Xingyue L is the first model to run Geely's newest operating system, the Milky Way OS, which supports seamless linkage of four screens, two infotainment screens, fully digital driver instrument screen, and a 25.6in AR-HUD, providing drivers with access to the latest road and navigation information without averting their gaze.
The Xingyue L comes with a 10 speaker high-performance BOSE sound system which is combined with engine harmonic noise reduction technology and double layered soundproofing, creating a serene interior environment liken to a symphony concert hall. Interior lighting has also been raised to the next level with a customizable 72 colour atmospheric lighting scheme that changes according to the driving mode.
Developed on Geely's most advanced Compact Modular Architecture, the Xingyue L is endowed with world-class safety, performance, intelligence, and sustainability. It is powered by Volvo and Geely's jointly-developed 2.0L turbo direct injection engine and matched with either Geely's self-developed 7-speed wet dual clutch or Aisin's 8-speed automatic transmission. Users are offered two tuning options; a high-powered version with a maximum power of 175kW and up to 380 N•m of torque capable of a 0-100km/h acceleration in 7.7s or a mid-powered version with a maximum power of 160kW and up to 325 N•m capable of a 0-100km/h acceleration in 7.9s.
With BorgWarner's sixth-generation four-wheel drive system, a 50:50 front/rear torque distribution is possible, offering Xingyue L users improved off-road performance. Five driving modes will be available; an energy efficient ECO mode, refined NORM mode, speedy SPORT mode, reliable SNOW mode, and a powerful OFFROAD mode.
As part of the Blue Geely Initiative, all Star models including the Xingyue L will be the first to offer users the option of utilizing Geely's latest GHS2.0 hybrid powertrain system in the near future. Geely Hybrid System 2.0 which will be fully unveiled in Q4 2021, offers world-class thermal efficiency of 43.32% and fuel savings exceeding 40%.
Going beyond L2 autonomous drive, Xingyue L comes with Geely's newest 5G-enabled, completely unmanned automated valet system. Within a 200-metre area such as a parking lot, the Xingyue L can drive independently, search for parking spots and park itself. The reverse can also be accomplished by calling the Xingyue L to pick up the user within a 200-metre area. The vehicle is able to achieve this feat through the integration of 12 ultrasonic radars, 5 millimetre wave radars, 4 high-def surround view cameras, 1 monocular camera, 1 dashcam, and 1 interior camera.
The advanced sensor suite also allows Xingyue L to be the first Geely model to offer HWA Highway Assisted Driving which actively monitors the vehicle's surroundings, autonomously change lanes, and move safe distances away from large vehicles. Drivers can also direct the Xingyue L to autonomously change lanes through signaling.
Xingyue L comes with full firmware OTA which allows fundamental aspects of the vehicle, including intelligent safety, infotainment, power, chassis, autonomous drive, connectivity, etc to be upgraded over time. Connected to Geely's technological ecosystem, the Xingyue L grows as Geely grows.