Geely Auto released its 2022 Environmental, Social, and Governance (ESG) report
Six major directions of sustainable development: climate neutrality, nature positive, all-around safety, digitalization & innovation, co-prosperity, governance, and ethics
Geely Auto's lifecycle carbon emissions per vehicle decreased by 8.1% from 2020 to 2022
Geely Auto commits to reduce lifecycle carbon emissions per vehicle by more than 25% by 2025 and achieving carbon neutrality by 2045
Geely Auto is increasing the proportion of new energy models and developing efficient powertrains
Geely Auto puts forward the concept of co-prosperity and aims to benefit consumers, industry, employees, and communities
On April 21, Geely Automobile Holdings Limited (0175.HK, hereinafter referred to as "Geely Auto") released its 2022 Environmental, Social and Governance (ESG) report. According to the 2022 report, where 2020 is taken as the baseline, Geely Auto's lifecycle carbon emissions per vehicle decreased by 8.1%, its sales of new energy vehicles increased by 300% year-on-year, its nine vehicle plants were rated as national "green factories", and the installed capacity of photovoltaic power generation went up to 307 MW. Also in the report, Geely Auto commits to reducing lifecycle carbon emissions per vehicle by more than 25% by 2025, and to achieve carbon neutrality by 2045.
Geely Auto discloses for the first time six directions of ESG strategy with the vision of "A Sustainable Future, A better life" and the sustainable development mission of "To create an innovative sustainable mobility ecosystem for intelligent vehicles". Geely Auto outlines a sustainable development blueprint in six major directions: climate neutrality, nature positive, all-around safety, digitalization & innovation, co-prosperity, governance and ethics, and works together with industry chain partners to create a sustainable mobility ecology.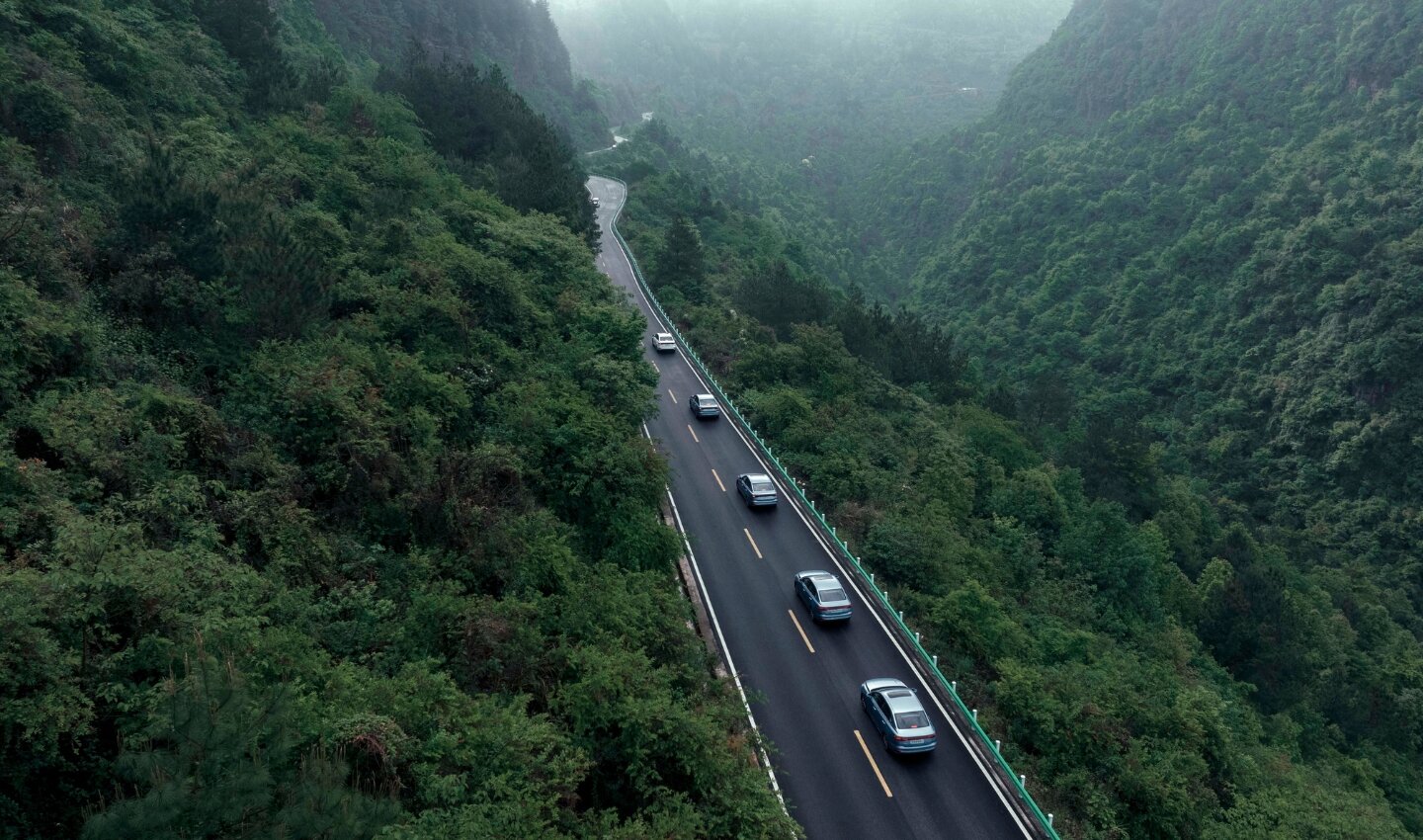 Efficient carbon reduction throughout the life cycle and harmonious coexistence with nature
As a responsible enterprise, Geely Auto integrates the concept of low carbon in the whole life cycle of its products, and formulates comprehensive carbon reduction plans at the manufacturing side, supply side and use side to reduce carbon emission efficiently. In 2022, Geely Auto's lifecycle carbon emissions per vehicle were 35.2 tCO₂e, down 8.1% and 5.6% from 2020 and 2021, respectively.
On the user side, Geely Auto continues to increase the proportion of new energy models and develop efficient powertrains. In 2022, Geely's Monjaro, Lynk&Co 09 and the fourth-generation Emgrand were awarded the title of national green design product, and its Boyue L and ZEEKR 009 were awarded the C-ECAP platinum certification. At the same time, Geely Auto also continues to carry out research and development of ultra-low emission technology. As a result, the new generation of "Leishen Electric Hybrid " boasts a thermal efficiency of 44.26%, leading to the fuel consumption per 100km of only 5.23 liters when the battery is under voltage. In addition, the fourth generation of Emgrand alcohol-electric hybrid models, equipped with 1.8-liter alcohol-electric hybrid engine and hybrid electric drive transmission, were also launched, with alcohol consumption of 9.2 liters per 100 kilometers, a reduction of more than 40%. The annual average emissions of the use side is reduced by 11.5% compared with 2020, and the sales of new energy models accounts for 23%.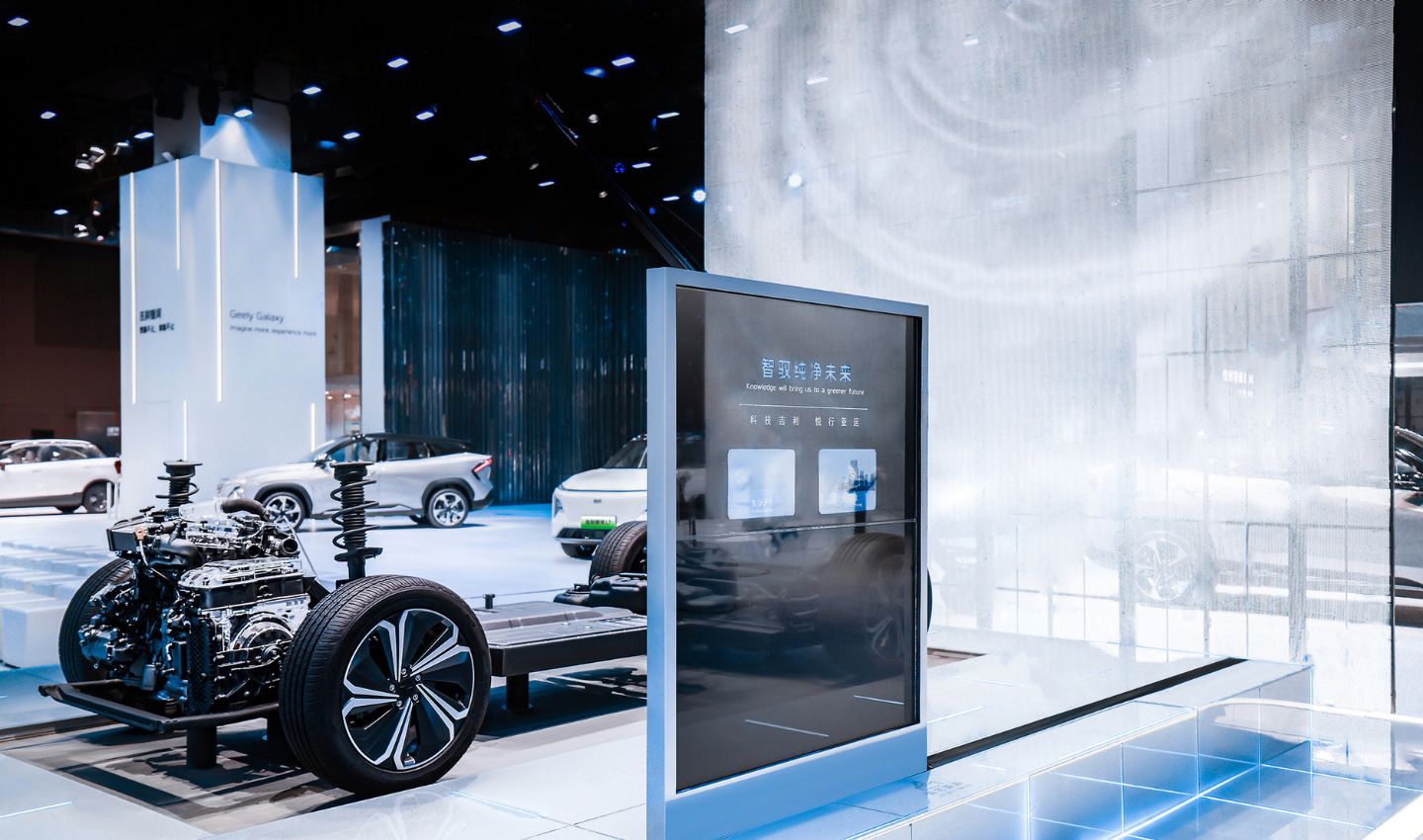 At the manufacturing side, Geely Auto focuses on energy saving and clean energy. Its 9 vehicle plants were awarded "National Green Factory" in 2022. Among them, Xi'an plant became the first zero-carbon plant in the domestic vehicle industry and was selected as an annual industrial case in the APEC China CEO Forum "Sustainable China's Industrial Development Action". The installed capacity of photovoltaic power generation increased by 179% to 307 MW, and the proportion of renewable electricity used in the vehicle plants reached 36%.The annual energy consumption per vehicle and total greenhouse gas emissions in the vehicle plants were reduced by 12.1% and 24.8% respectively compared to 2020.
On the supply side, Geely Auto has established a supply chain sustainability system, developed 13 types of low-carbon materials in 2022, and plans to use recycled materials in the next 2025 models. Through recycled materials and power batteries, 0.38 tons of carbon emission reduction per vehicle has been achieved.30% of its tier 1 suppliers have used renewable electricity, of which 10% of its tier 1 core suppliers have used renewable electricity as the only power source.
At the same time, Geely Auto actively exercises environmental protection responsibility, achieving 100% standard treatment and emission of exhaust gas, waste water and solid waste in all of its vehicle plants by 2022, reducing water consumption density of vehicle plants by more than 10%, and reaching 98.3% recycling rate of industrial water resources.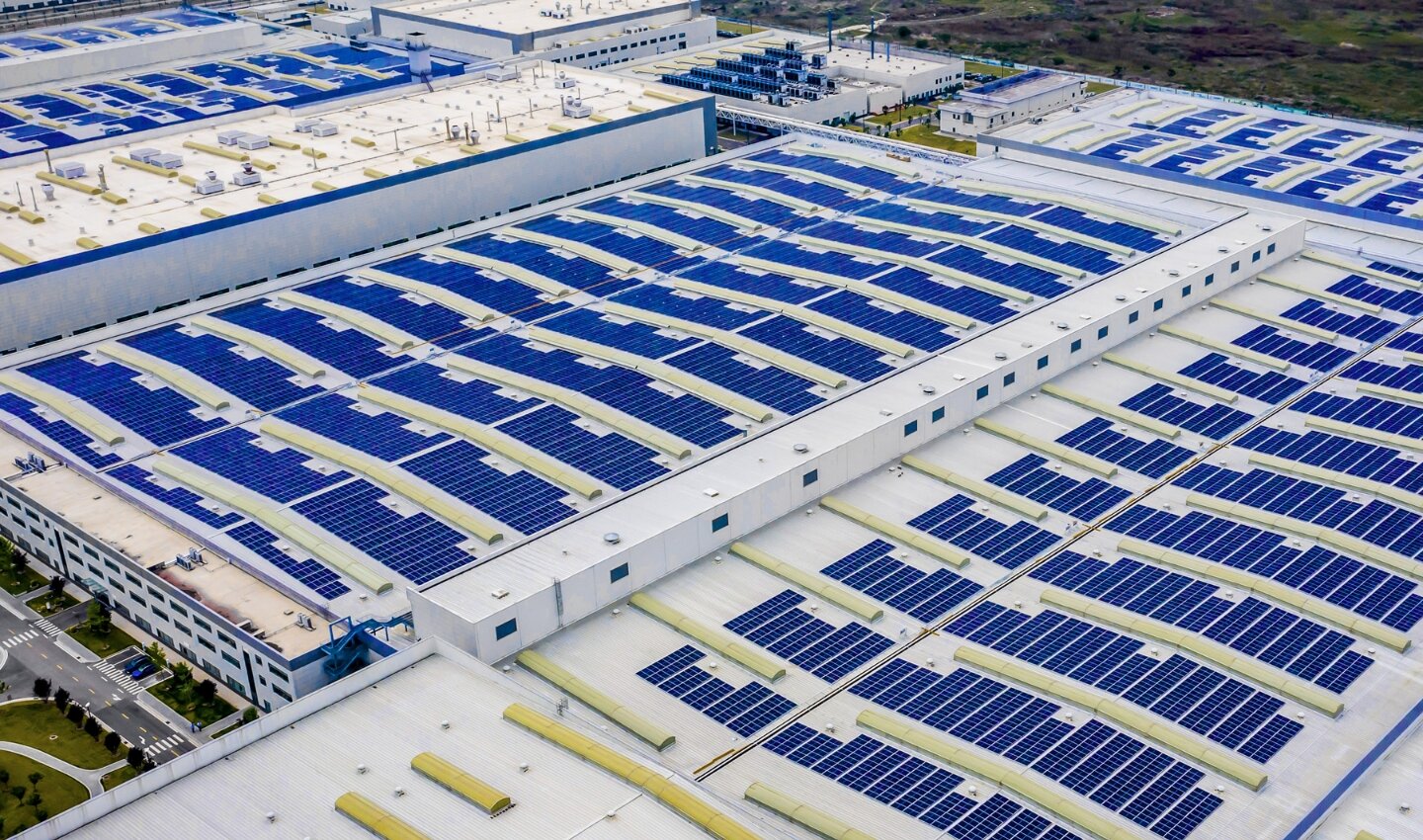 Synergistic development of industrial chain and comprehensive upgrade of user experience
As a kindhearted enterprise, Geely Auto puts forward the concept of co-prosperity in the report, so that consumers, industry, employees and communities can benefit from sustainable development together. With user needs as the guide, Geely Auto attaches importance to product quality and safety, and continues to build intelligent mobile mobility products. In 2022, Geely Monjaro became the first five-star model in C-NCAP 2021 edition assessment, which ranks first in the J.D. Power APEAL among all Chinese brands. In terms of sustainable mobility, ZEEKR Power has independently built 600 charging stations in over 100 cities nationwide (excluding dedicated stations), over 150,000 users subscribed on Lynk&Co brand in Europe, and Ruilan's cumulative number of power changes exceeds 1.26 million.
To business partners, Geely Auto insists on building sustainable value chain. In 2022, more than 90% of its tier 1 suppliers participated in ESG training and signed the Supplier Code of Conduct, and all of its dealers have been managed as stipulated. Geely Auto has become a member of 6 national standardization technical committees and has led or participated in the development of 374 standards to promote the collaborative development of the industry.
In terms of employee rights and benefits, Geely has implemented the "Common Wealth" plan, provided all employees and their families with comprehensive commercial insurance and health and safety protection, and offered a comprehensive talent training program. The annual employee satisfaction rate has reached 88.4%.
Social responsibility is also an important part of Geely Auto's sustainable development philosophy. In 2022, Geely Auto carried out public welfare activities in five major areas, including eco-friendliness, fair education, rural revitalization, community development and relief and assistance. Among them, ZEEKR's "Blue Planet Guardian" public welfare project gathered more than 2,500 volunteers and recycled nearly 8 tons of marine garbage throughout the year; Geely's "Dream Green Runway" program benefited more than 40,000 students in rural areas. Through the continuous practice of social welfare, Geely Holding Group was awarded the "Best Responsible Corporate Brand of the Year" in the 2022 CSR List.
Practise Compliance and Promote Diversified Governance
As an honest enterprise, Geely Auto takes "full authorization, legal compliance, clear assessment, fairness and transparency" as the core of corporate governance to create an honest and trustworthy development environment. By 2022, the percentage of female directors of Geely Auto increases to 27%, further strengthening the gender diversity of the board of directors. In addition, Geely Auto has released its Code of Conduct and Anti-Corruption Policy to continuously improve its corporate compliance and business ethics system.
In terms of compliance, Geely Auto has established a risk management framework and system in its four core businesses of production, R&D, sales and supply chain, pledging zero tolerance for corruption. In 2022, a total of 82,000 man-times of Geely Auto employees participated in anti-corruption and other compliance trainings, and all of its dealers and contractors also participated in the anti-corruption training.
In terms of data security, Geely Group has been awarded the international ISO 27001 information security management system certification for four consecutive years, and the ZEEKR brand has also received two certifications, namely ISO 27701 (privacy management system) and ISO 38505 (data governance management system), making it the first new energy vehicle manufacturer in China to receive the above three certifications.
First Disclosure of Six Directions of ESG Strategy to Lead the Future of Sustainable Mobility
Towards 2023, in order to realize the vision of "A Sustainable Development A Better Life", Geely Auto integrates ESG concept with corporate innovation and development, takes "To create an innovative sustainable mobility ecosystem for intelligent vehicles" as its sustainable development mission, and focuses on the six strategic areas of climate neutrality, nature positive, all-around safety, digitalization & innovation, co-prosperity, governance and ethics to lead the future of sustainable mobility.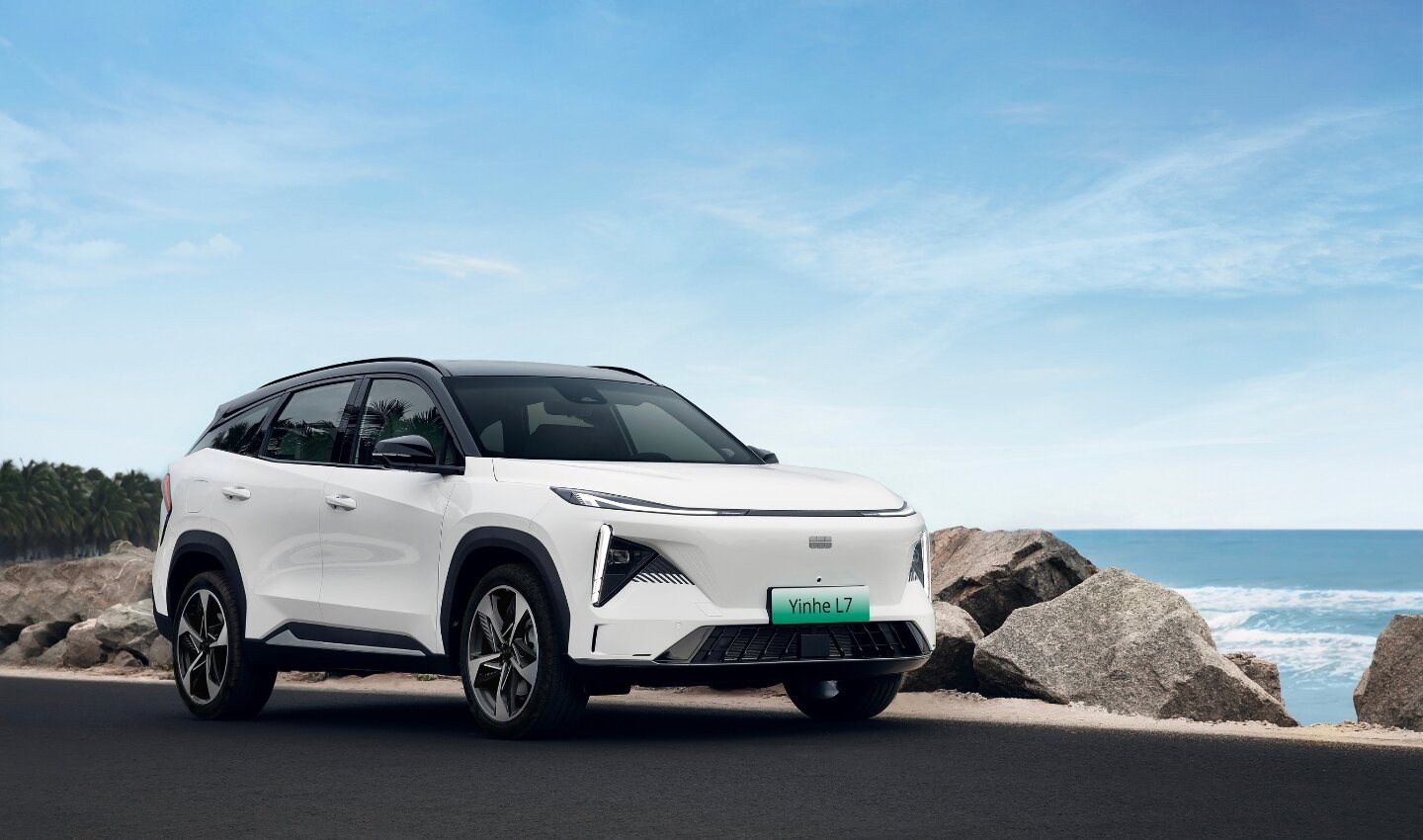 In terms of climate neutrality, with the aim of "carbon neutrality by 2045", Geely will strive to reduce lifecycle carbon emissions per vehicle by more than 68% by 2035 (with 2020 as the baseline), so as to make a transition to the 1.5℃ pathway in alignment with Paris Agreement. The manufacturing side, the supply side, and the use side will synergize with each other. On the manufacturing side, we will build more than 3 zero-carbon factories by 2025; on the supply side, we will work with suppliers to reduce carbon emission and increase the proportion of material recycling; on the use side, we will transform to new energy, with the purpose of reaching a new energy vehicle sales ratio of more than 50%. Geely brand is expected to launch 7 Yinhe series of mid- to high-end new energy products within 2 years. The Lynk&Co brand will stop investing in fuel vehicle R&D and launch seven new products within three years. The ZEERK brand will launch six smart pure electric products within three years. At the same time, we will promote the research and development, production and application of methanol technology.
In terms of nature positive, Geely Auto will take "nature positive" as the guideline to promote vehicle and battery recycling and integrate protection of natural resources and biodiversity into its production operations. From 2023, Geely Auto will carry out natural capital assessment for its vehicle plants, actively build a "nature positive" demonstration base, and reduce the amount of hazardous waste generated by a single vehicle by 22% compared to 2021.At the same time, Geely Auto will accelerate its recycling business model and create green recycling vehicles with high percentage of renewable energy application to live in harmony with nature.
In terms of all-around safety, Geely Auto takes "zero casualty, zero health hazard, zero property loss, and zero privacy leakage" as the purpose, and elevates the concept of safety to include the protection of everyone on the road and intelligent mobility technologies until the objectives of zero accident and zero casualty are achieved. Geely Auto pays attention to all road participants such as vehicle occupants, vulnerable road users (VRU) and maintenance and rescue personnel to ensure the safety of vehicles in various scenarios such as driving, parking, maintenance and repair. It also deepens cooperation with the government, traffic control departments, media and other stakeholders to continue to carry out safety technology exchanges and output industry research and analysis results.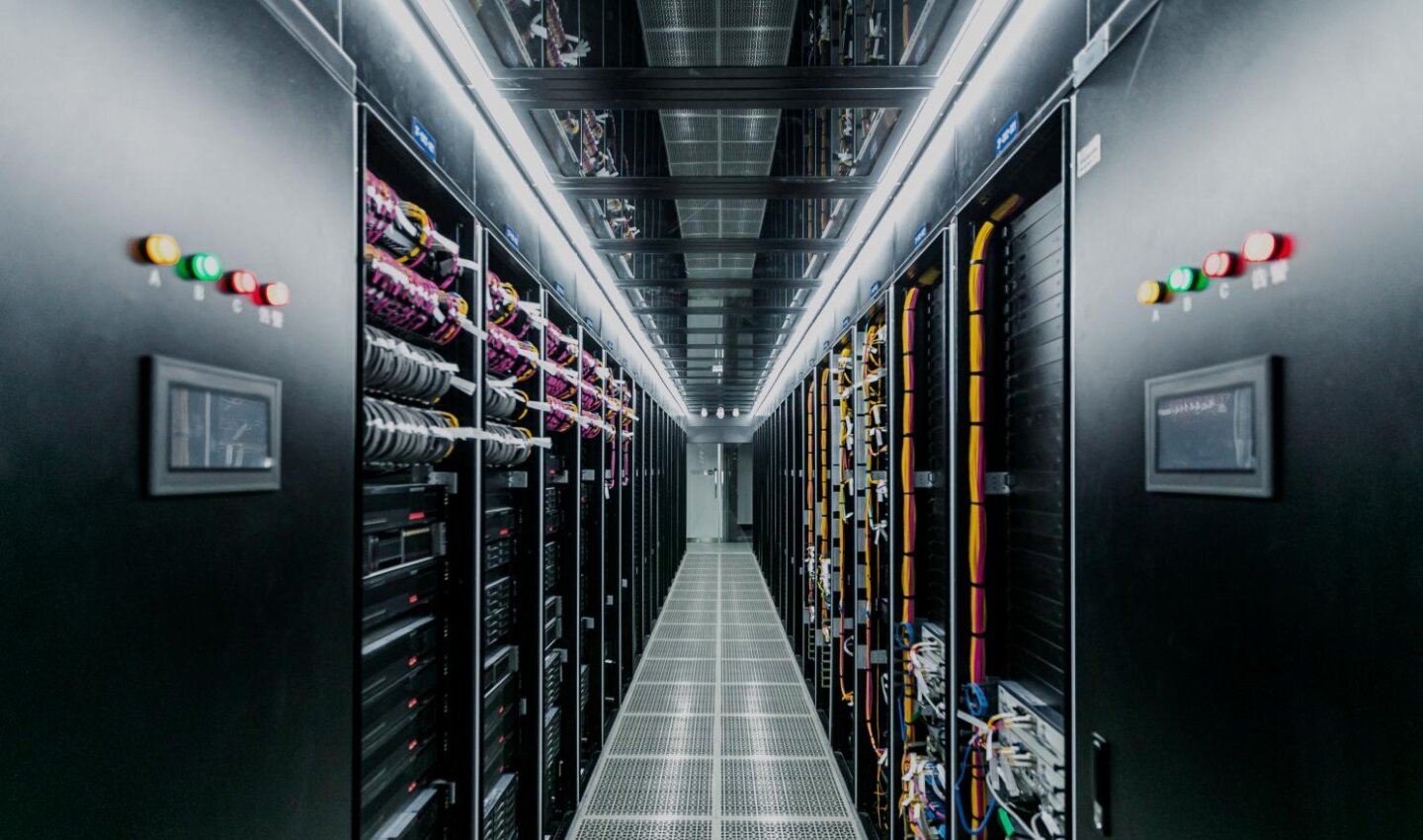 In terms of digitalization & innovation, Geely Auto insists on the guideline of "letting more people benefit from the digital intelligence ecology", balancing data safety responsibility and data value innovation, empowering user experience and innovating service ecology. Geely will implement the principle of "responsible use of data" throughout the entire product life cycle and extend it to the value chain. In addition, it will continue to explore the feasibility of automotive data and intelligent technology in solving broader sustainable development problems in the industry and society, on the strength of the technical layout of the "nine Geely-01 satellites", Xingrui Smart Computing Center, and Meizu Ecological Architecture.
In terms of co-prosperity, with the vision of " A Sustainable Future, A better life ", Geely Auto works with employees, business partners, consumers and communities to achieve common prosperity. For employees, Geely strives to build a diverse, equal and inclusive work environment, insists on gender equality and focuses on empowering women's leadership, and is committed to reaching the objective of more than 20% of female management by 2025. It has also established digitalization as the core of future employee competency development, ensuring that digitalization-specific training covers 100% of key employees. For the value chain, Geely Auto has adopted a series of measures such as system management system and training to promote the sustainable development of suppliers, dealers and other business partners.
In terms of governance and ethics, Geely Auto takes "Best Governance Practices of Global Corporates" as a benchmark to build a legally compliant and fair and transparent governance structure and ethical system, incorporates ESG into the management scope, continuously follows the highest global standards of compliance and business ethics requirements, builds a proactive compliance management system, and improves the governance system with "full authorization, legal compliance, clear assessment, fairness and transparency" as the core.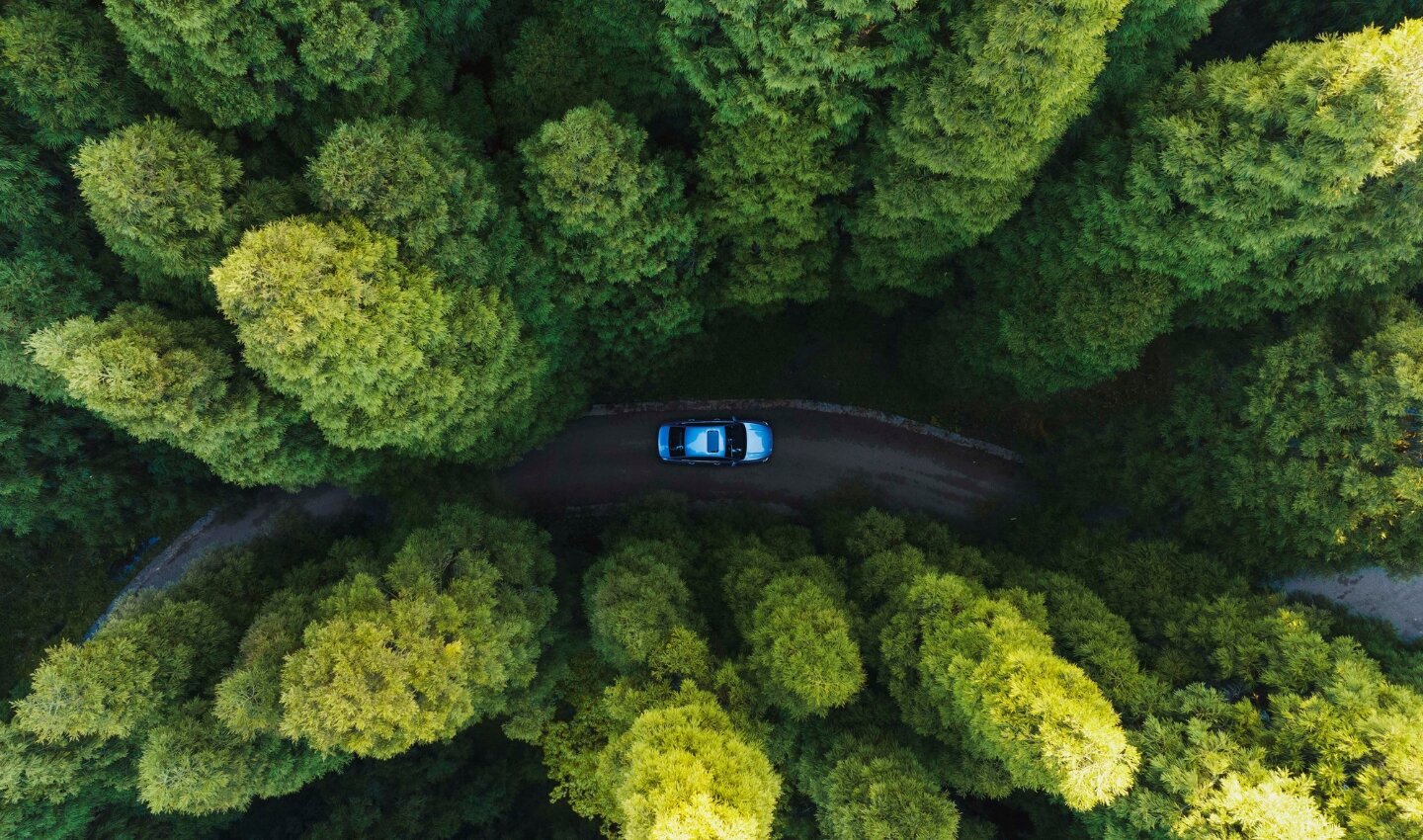 Through years of development in the ESG field, Geely Auto's ESG performance has been widely recognized by the market. Geely Auto has been selected as a constituent stock of HSESG50, HSSUSB and FTSE4Good Index Series. Its MSCI ESG rating has been upgraded to A and its Sustainalytics ESG risk rating adjusted to low risk. In May 2022, Geely launched its sustainable finance framework and secured its first US$400 million financing under the framework in August, which will be used for development and manufacturing of new energy technologies and products.
For the future, An Conghui, Chairman of Geely Auto Sustainability Committee, said: "Geely Auto always puts sustainability as the core element of corporate development, and will continue to explore the space for improvement based on the industry's best practices, aiming to become a benchmark for sustainable development in the automotive industry.
Click here to download the full report.